About This Trip
And The Countdown
Begins....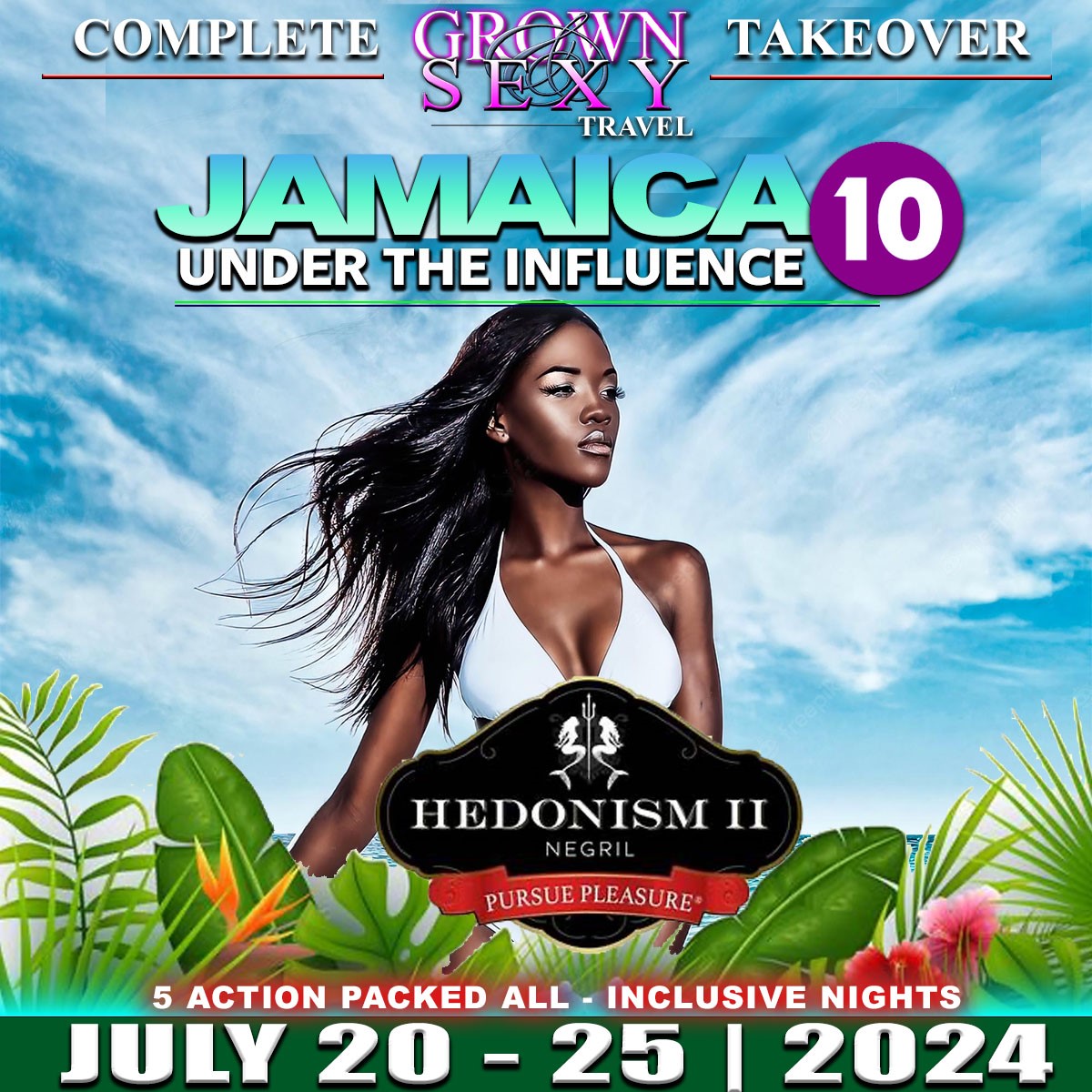 THE 10TH ANNUAL GROWN & SEXY TAKEOVER @
"HEDONISM II RESORT" JAMAICA FOR 5 ALL-INCLUSIVE NIGHTS
THIS EXCLUSIVE, ALL INCLUSIVE "GROWN & SEXY" TOTAL RESORT "BUYOUT" FEATURES:
PARTIES & EVENTS DAY & NIGHT THROUGHOUT THE RESORT
Choice of "Prude Side" (Non-Nude) or "Nude Side" Accommodations
(Please note: You do not have to be Nude to stay on the Nude side. Nude is required only at Nude side pool, beach & bar)
UNLIMITED PREMIUM LIQUOR at 5 bars
GOURMET DINING 20 hours per day
The Infamous Grown & Sexy Theme Parties EVERY NIGHT (Themes TBA)
The Grown & Sexy Celebrity DJ's
Comedy Show / Dinner Party
All Day Pool Parties @ 5 Pools
Cigars & Cognac High Fashion Cocktail Party
"Brunch So Hard" The Most Entertaining Brunch On Earth
All White Beach Dinner Party
Daily Grown & Sexy Games & Beach Activities
Midnight Old School Hip-Hop Foam Party
Grown 7 Sexy Ricks Cafe Catamaran Trip (Extra Cost Applies)
More To Be Added throughout the remainder of 2023
ALL-INCLUSIVE, ALL FUN:
Complimentary WiFi
6 Pools & Hot Tub's
Fully equipped Fitness Gym with Instructor
Sauna, Steam Room
Tennis, Beach Volleyball, Pickle BallGo
Glass Bottom Boat Rides, Snorkeling, Kayaking
Easy Payment Plan
Deposit $248 pp | $347 for Singles
Additional Payment: $149 pp on 8/18/2023
Third Payment: $249 pp on 10/20/2023
Fourth Payment: $249 pp on 1/12/2024
Fifth Payment: $249 pp on 3/16/2024
Final Payment: Balance due on 5/10/2024
PLEASE NOTE: A Passport is required to enter Jamaica for U.S. Citizens. Check the expiration date so that it is valid for 6 months after your travel date. Visas may be required for non-U.S. Citizens.

You must book thru this website to be included in the private G&S activities & parties.
Please note that events, entertainment, and performers are subject to change without notice. The itinerary may change as conditions warrant.
Travel Now, Pay Later
We've partnered with Uplift to make your dream vacation a reality with easy monthly payment options. Uplift makes your trip more accessible, affordable, and rewarding by giving you the freedom to travel now and pay later.
Visit our FAQ page for more details or Uplift's FAQ's for more info. To apply please select your accommodations and click on Pay with Uplift at check-pi.