Accommodations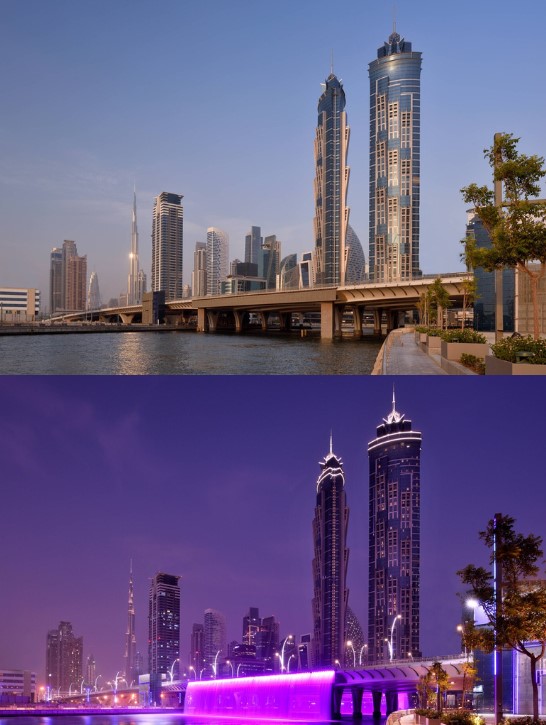 Dubai is a city of awe-inspiring ambition and unsurpassed luxury, home to the world's tallest building, the largest shopping mall, the iconic Palm, and JW Marriott Marquis Hotel Dubai - the world's tallest hotel. Spread across 2 iconic towers, our hotel features an enticing array of bars and restaurants, and the sublime Saray Spa and Health Club.
Restaurants
Prime68 - Widely regarded as one of downtown Dubai's premier steakhouse restaurants, serving high-quality and perfectly prepared meat. Enhance your meal with a side dish and a glass of wine. Reservations are required.
Rang Mahal - Taste the vibrant colors of India's diverse spice route along with delicious concoctions in the most grandeur of settings
Kitchen6 - Open for breakfast, lunch and dinner, this vibrant restaurant specializes in global cuisine, including Middle Eastern and Japanese favorites. Stop in and admire the chefs at work in the open kitchen.
La Farine Cafe & Bakery - La Farine offers a taste of France in the heart of Dubai, with freshly baked French pastries, delicious juices and gourmet coffee to eat in or take out. This relaxed bakery is open 24 hours a day for your convenience.
Vault - Ascend to the 71st and 72nd floors of the hotel to Vault, our elegant lounge bar which features panoramic views of downtown Dubai. Serving a variety of wines, cocktails and beer, Vault also offers a range of premium cigars.
The Lounge - Ground Floor - Whether you're starting your day in Dubai with a filling breakfast or joining us for a cocktail after a successful afternoon, The Lounge is the place to relax and recharge in casual surroundings.
Bridgewater Tavern - Laid-back and welcoming, our sports bar offers casual dining and broadcasts the day's biggest sporting events for you to watch on flat-screen TVs. Relax with friends while sipping tasty cocktails and beers.
Tong Thai - Thailand's rich culinary history is on full display at Tong Thai restaurant, which is open daily for dinner. Savor flavorful Thai classics including Tom Yung soup and Pad Thai, as well as refreshing beverages. Reservations are required.
Positano - Positano is an authentic Italian restaurant offering freshly-made pasta and pizza, as well as delicious meat dishes and an exceptional wine and dessert menu. Reservations are required.
Izakaya - Experience traditional Japanese cuisine in downtown Dubai at Izakaya restaurant, featuring an enticing menu and authentic surroundings. Reservations required.
Aqua Poolside Grill and Bar - Soak up some rays and enjoy a serene dining experience in a luxurious poolside location at Aqua Poolside Grill and Bar in downtown Dubai.
Wanderlust - Embrace your inner wanderlust and embark on an epicurean adventure around the world with over ten live stations and instagrammable beverages, while enjoying the innovative grooves from a resident DJ. Open for Friday Brunch 1pm-4pm Age policy 21+
Spa & Fitness
Saray Spa - Tucked away behind ornately carved doors, the world-class Saray Spa is a health and wellness haven at the heart of the world's tallest 5-star hotel. True to its name and drawing inspiration from the historic Caravanserais located along the silk trade routes of old, Saray Spa offers a personal experience of restoration and renewal through rituals that have withstood the test of time.
Saray Spa & Health Club - Saray Spa & Health Club is a one-stop destination for all of your fitness and wellness needs. Enjoy a 5-star health club offering state-of-the-art strength training, cardio and functional equipment along with personalized fitness assessments from qualified instructors.
Outdoor Swimming Pool - Take a refreshing dip. Our hotel's outdoor temperature-controlled swimming pool offers spectacular views over downtown Dubai and the majestic Burj Khalifa.
Included
Dubai Tourist Room Tax - Normally $6 per room/per night collected at check-in
Complimentary - Complimentary high-speed Internet & Bottled Water in your room
Free shuttle - Complimentary shuttle services to The Dubai Mall and Mall of the Emirates (operated by the mall)
In-room entertainment - 43 inch TV with Premium movie channels, international cable/satellite & iPod dock