About This Trip
And The Countdown
Begins....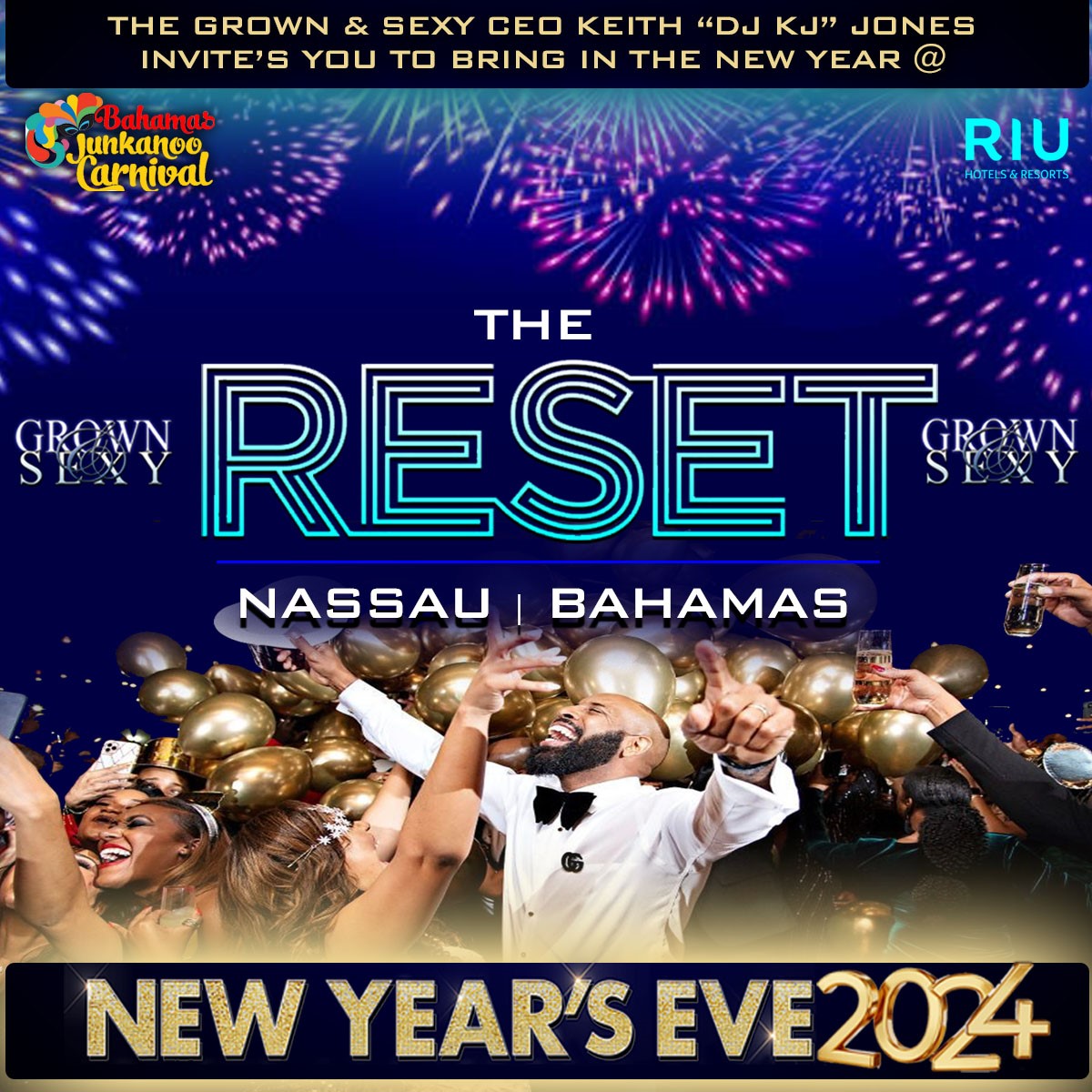 3 NIGHTS ALL-INCLUSIVE NEW YEAR'S GETAWAY

Keith "DJ KJ" JONES, CEO of the Grown & Sexy invites you to spend NYE in Nassau, Bahamas, his family's hometown for 3 Nights of Parties, Shows, Parades, Events & the Biggest NYE Night You Will Ever Experience at "THE RESET" NYE 2024. Our host hotel, the adults-only, all-inclusive WARWICK PARADISE ISLAND. All G&S Parties & Events will be off-site in Nassau including BEACH PARTIES, THE BAR HOP, THE ALL-WHITE NYE PARTY & TICKETS TO THE JUNKANOO 2024.
We will be embracing local Nassau life @ some of "KJ's" favorite places and celebrating non-stop with the local as his family's restaurants and bars.
Junkanoo, is the National Festival of The Bahamas, is an expression of Bahamian art and culture. Large groups parade with elaborate costumes, dancing or playing goatskin drums, horns, bells, or whistles, as thousands watch and dance along. For travelers, it's a unique opportunity to become deeply immersed in the dynamic culture of the island.

PRICE INCLUDES:
BEACH PARTIES
NIGHT PARTIES
ARAWAK BAR HOPPING
TICKETS TO NEW YEARS JUNKANOO PARADE (Parade starts at 1 am until sunrise)
DELUXE ACCOMMODATIONS AT HOST HOTEL
ALL HOTEL MEALS & SNACKS AT HOST HOTEL
UNLIMITED DRINKS & COCKTAILS AT HOST HOTEL
LAND & WATER ACTIVITIES
THE ISLAND'S BEST BEACH
COMPLIMENTARY WI-FI
TIPPING FOR HOTEL STAFF
ROUND TRIP TRANSFERS TO & FROM THE AIRPORT
MUCH MORE WILL BE ADDED
PLEASE NOTE: A Passport is required to enter The Bahamas for U.S. Citizens. Check the expiration date so that it is valid for 6 months after your travel date. Visas may be required for non-U.S. Citizens.

Airfare deals are still available. Bahamas Air is offering flights starting at $266 pp from Miami (MIA) & Fort Lauderdale Airports (FLL.) They also fly out of Orlando starting at $306 pp. We also recommend Jet Blue from FLL & New York, or American Airlines from Miami. From Dallas, New Orleans & Atlanta airports, we recommend checking Southwest Airlines. Frontier Airlines has flights on select days out of Atlanta, Detroit, Houston, Tampa & other gateways.
Click HERE To Book Now!!
You must book thru this website to be included in the Grown & Sexy abroad events!
Please note that events & entertainment are subject to change without notice.
Travel Now, Pay Later
We've partnered with Uplift to make your dream vacation a reality with easy monthly payment options. Uplift makes your trip more accessible, affordable, and rewarding by giving you the freedom to travel now and pay later.